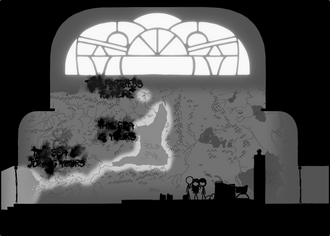 The comic is located near southern France, at a time in the future when the Mediterranean Sea has receded and is beginning to be refilled by the Atlantic Ocean in an event similar to the Zanclean Flood. The location was confirmed in the maps shown in frame 2901 and 2902.
The castle inhabited by the Beanie People is likely the Château d'If given the location marked for it on the maps in 2901 and 2902, as well as the Beanie Leader's comments in 2908 and 2909 that reveal the castle was once an island and will be an island again when the sea refills.
Old Theories
Edit
Before the location was confirmed, forum users speculated on the location of the comic. Here are some hypotheses:
Ad blocker interference detected!
Wikia is a free-to-use site that makes money from advertising. We have a modified experience for viewers using ad blockers

Wikia is not accessible if you've made further modifications. Remove the custom ad blocker rule(s) and the page will load as expected.